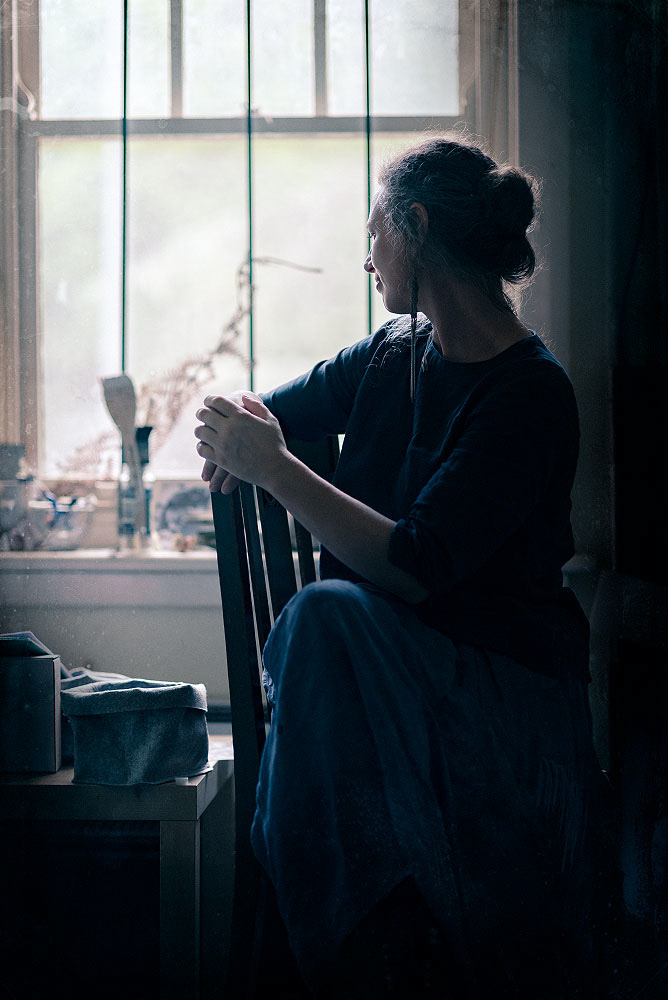 Genevieve Swifte is a contemporary artist with a PhD from the ANU School of Art and Design specialising in photography, feminist aesthetics and self-portraiture. Her thesis work spans five years of photographic practice to create pairs of images exploring themes such as light, mirroring, empathy and the visual representation of sound and touch. Emerging from the darkroom of an alternative school in the early 1990s, Swifte's sensibilities are also informed by an undergraduate degree in drawing and printmaking, interdisciplinary collaborations and residencies in remote corners of the globe.
Supported by ArtsACT, Swifte  recently undertook a period of creative research with the Department of the Council of the Alhambra and the Generalife, and a residency program 
at a 14th century convent in Andalusia. During this time she explored the behaviours of light in sacred architecture and forested environments. This period of creative development informs Swifte's contribution to the cross-disiplanary collaboration
Ampleya
wi

th composer and pianist Rasa Daukus and mezzo soprano AJ America.
As a resident artist at the historic Ainslie and Gorman Arts Centres in Canberra, Swifte is also a member of the board of directors and works with the community
as an independent arts educator teaching the observational drawing course Eye to Hand. Her workshops welcome young artists from thirteen years of age, creative professionals, complete beginners and people with all levels of ability. Members of the community who have not had the opportunity to engage in formal art training are especially welcome to attend.
Swifte's works are held in public collections in Australia and internationally. 
Doctor of Philosophy, School of Art and Design, Australian National University 
Bachelor of Visual Arts (Honours), School of Art and Design, Australian National University
Australian Capital Territory Legislative Assembly
Upernavik Museum, Greenland
State Library of Queensland, Australia
Australian National University
Bibliotheca Alexandrina, Egypt
Eye to Hand Workshops and Masterclasses
Ainslie and Gorman Arts Centre, ACT
Australian National Botanic Gardens, ACT
DESIGN Canberra Festival, 2018
AIDS Action Council, 2018
Belconnen Arts Centre, ACT 
​​​​​​​
City Grants Program, City Renewal Authority, ACT Government
Program Funding, ACT Arts Fund
ACT Arts Fund, Out of Round Funding
Canberra Arts Critics' Circle Award
ACT Arts Fund, Out of Round Funding
ABAF Donations, Australia Cultural Fund
ArtStart, Australia Council for the Arts
Program Funding, ACT Arts Fund
Janet Holmes à Court Artists' Grant
Out of Round Funding, ACT Arts Fund
Donovan Astronomical Trust
Select Exhibition History and Professional Background
​​​​​​​
2018

Board of Directors, Ainslie and Gorman Arts Centres, Canberra ACT
Upcoming, 17th November, Sensing Space: Embodied Perception of Geometry in Architecture workshop with Eva Culek for the Design Canberra Festival
Upcoming public art installation, Cygnus Atratus, with support from the ACT Government through the City Renewal Authority's City Grants Program, Date to be announced.
Kalos, an interdisciplinary collaboration with composer and pianist Rasa Daukus and mezzo soprano AJ America
Resident Artist, Gorman Arts Centre, Canberra, ACT
Arts Educator, Eye to Hand, Ainslie and Gorman Arts Centres
Creative development and research, Council of the Alhambra and the Generalife, Granada, Spain
Artist in residence, Silencio, Convent of Santa Clara, Belalcázar, Spain
Resident Artist, Gorman Arts Centre, Canberra, ACT
Arts Educator, Eye to Hand, Ainslie and Gorman Arts Centres
2016
Visual Arts Graduate Season, SoA Gallery, ANU School of Art, ACT
Sila, collaborative project of composition and live video projection with musical performance by Cheryl E. Leonard, Polar Soundscapes, David Brower Center, Berkeley, California

Exhibiting artist, SYNTHESIS, M. Contemporary, Woollahra, Sydney

Exhibiting artist, The Poetic Lens, with Relative Constructions, Carlton Project Space, 
Chippendale Creative Arts Precinct, Sydney

Exhibiting artist, The Poetic Lens, with Relative Constructions, Tamworth Regional Gallery, Sydney

Exhibiting artist, Photoactivism, Photoaccess, Canberra

In collaboration with composer Cheryl E. Leonard, Soundings, School of Art Gallery, ANU, Canberra

Thresholds, collaborative project of composition and live video projection with musical performance by Cheryl E. Leonard, Outsound New Music Summit, San Francisco

Solo exhibition Trespass, Barometer Gallery, with Head On Photography Festival, Sydney

Exhibiting artist Light Years, Photoaccess, Canberra

Solo exhibition Trespass, The Front, Lyneham, Canberra

Exhibiting artist, Quotidian, Elements of the Every Day: Water, CelerySpace, Berkeley, California. 
A CaliforNoyers Production co-created with La Porte Peinte, Noyers, France

Exhibiting artist, The Poetic Lens, M16 Artspace, Griffith, Canberra

Speaker, Photography and Fictions, Conference hosted by the Queensland Center of Photography, Brisbane

Exhibiting artist, Altered States, Left Hand Gallery, Braidwood, NSW
Artist in residence with Tracey Sarsfield, BigCi, Bilpin, Blue Mountains, NSW

Exhibiting artist, Sur Polar: Arte en Antarctida, Galeria de Arte Contemporaneo de Xalapa, Mexico

Assessment panel member, ArstACT

Exhibiting artist, Intensity of Purpose: 21 years of ANCA, Canberra Museum and Gallery

Exhibiting artist, 100%: Books by Canberra Artists, Watson Arts Center, Canberra



Exhibiting artist, Assisted Reproduction, SoA Gallery, ANU School of Art, Canberra

Sila, collaborative project of composition and live video projection with musical performance by Cheryl E. Leonard, San Francisco Electronic Music Festival
 
Speaker, IV Antarctic Art and Culture International Conference and Festival, Buenos Aries

Exhibiting artist, Sur Polar IV, Museo de Arte Tigre, Buenos Aries

Exhibiting artist, Transit of Venus,  Photospace, The Australian National University School of Art, Canberra



Solo Exhibition, She Is Always Beautiful, Drawing and Photography from Northwest Greenland, Lowrise Projects, Melbourne

Speaker and exhibiting artist, Antarctica, Music, Sounds and Cultural Connections Festival and Conference, 
The Australian National University School of Music, Canberra

Solo exhibition, Drawing and Photography from Northwest Greenland, Photospace, 
The Australian National University School of Art, Canberra

Graduate in residence, Photomedia Workshop, The Australian National University School of Art, Canberra

Studio Artist, Australian National Capitol Artists Studios, Canberra

Technical Officer, Book Studio, Printmedia & Drawing Workshop, 
The Australian National University School of Art, Canberra

Artist in residence, Upernavik Artist's Retreat, Greenland

Public installation, 94th Moon, with Steven Holland, Mount Stromlo Observatory, Canberra

Exhibiting artist, Shifting Signs, with Nicci Haynes, ANCA Gallery, Canberra

Speaker, Focus on Artists' Books V, conference, Artspace Mackay, QLD

Finalist, Libris Award, Artspace Mackay, QLD

Studio Artist, Australian National Capitol Artists Studios, Canberra

Solo exhibition, Apogee/Perigee, Drawing on Astronomy, Canberra Contemporary Artspace, Manuka, Canberra

Exhibiting artist and Curator, Dark Space, Light Work, M16 Artspace, Canberra

Exhibiting artist and artist's talk, Books to Hold and Let Go, Craft ACT, Canberra

Finalist, Phoenix Prize for Spiritual Art, SoA Gallery, Australian National University School of Art, Canberra

Studio Artist, Australian National Capitol Artists Studios, Canberra


Graduate in residence, Print media and Drawing Book Studio, The Australian National University School of Art, Canberra

Finalist, Acquisitive Artist's Book Award, Next Art Gallery, Southern Cross University, NSW

Exhibiting artist, Make Way, M16 Artspace, Canberra

Finalist, Swan Hill Print and Drawing Acquisitive Awards, Swan Hill Regional Art Gallery, VIC

Finalist, Jed Art Awards, Shepparton Arts Festival, VIC

Finalist, Libris Awards, Australian Artists' Book Prize Exhibition, Artspace Mackay, QLD



2007
Exhibiting artist, Explorations '07, Gallery Gaffer, Sydney

Exhibiting artist, Water/Water, SoA Gallery, The Australian National University School of Art, Canberra
2006
Solo Exhibition, Nephology, SoA Gallery, The Australian National University School of Art, Canberra

Finalist, Robert Jacks Drawing Prize, Bendigo Art Gallery, VIC

Finalist, Acquisitive Artist's Book Award, Next Art Gallery, Southern Cross University, NSW

Finalist, Swan Hill Print and Drawing Acquisitive Awards, Swan Hill Regional Art Gallery, VIC

Exhibiting artist, Second International Biennial For The Artist's Book, Bibliotheca Alexandrina, Egypt
2000
Performance, Zhang Huan's My Australia, The National Gallery of Australia, Canberra